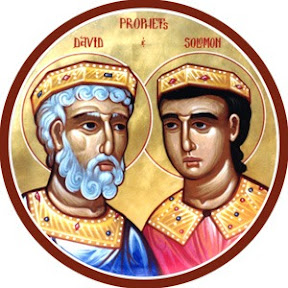 "I am about to go the way of all the earth. Be strong, and show yourself a man, and keep the charge of the LORD your God, walking in his ways and keeping his statutes, his commandments, his rules, and his testimonies, as it is written in the Law of Moses, that you may prosper in all that you do and wherever you turn, that the LORD may establish his word that he spoke concerning me, saying, 'If your sons pay close attention to their way, to walk before me in faithfulness with all their heart and with all their soul, you shall not lack a man on the throne of Israel.'
1 Kings 2:2-4
In David's final charge to his son (now king), Solomon, he emphasizes that the first royal duty is faithfulness to God. Everything else flows from relationship with and obedience to God. And the measure of this in Israel was in the Word of God as revealed in the Law of Moses. If Solomon would be faithful to keep what was written there, leadership would flow from the commitment and character thus exhibited.
David is appealing really to two covenants. The first one is the one that all of Israel had with God as His unique people. And the document of that covenant was the Law of Moses. The nation would prosper as they were led by the king to be faithful to God through the Law.
The second covenant was the one God made with David, promising a ruler in His line forever on the throne of Israel. This was a covenant with no document, unilaterally held in the promise of God. It did insist that David's descendants lead, and David believed God when He made this promise to the line of David.
What would bring success would be an unwavering commitment to obedience to God and faithfulness to His Word. The first requirement of real leadership is character. And the kind of character forged in the heart by knowing and following God's Word is irreplaceable. It is the kind of character that builds a life for eternity. And that is what David knew, believed, and trusted right to his very last breath.
- Posted on an original iPad.
prepare your minds for action...
1 Peter 1:13